Body shaming is something that is spamming the social networks these days. Even, in reality, people are going through the embarrassment. Not only the common people but, even the celebrities are facing the same. However, they are strong enough to take care of themselves and stay appealing for their respective roles.
The blog incorporates seven such celebrities who have hit the social lenses, in terms of fitness. Additionally, they have certain tips to keep oneself motivated in spite of the ups-downs. Read on to know more.
Jason Derulo
"Two times work out every day is what has kept looking so fit for all my shows and albums".
– Jason Derulo
The star ensures to include a lot of cardio with at least five hundred push-ups to his daily gym routine. His rigorous fitness regime is an example of the fact that will power is the key to staying fit while wavering a big red flag to laziness.
Justin Bieber
Who doesn't want to look like the young heartthrob Justin Bieber? The singer has had a massive transformation from "Baby" to the "2U". His well-toned body has helped him to gain the brand ambassador title from Calvin Klein Underwear. Bieber works out five times a week for 40-minutes per session. He says "With a close watch on what I eat, no special diet is what I follow". A US magazine also mentioned, "His workouts are focused on back and triceps one day, chest and biceps another and more."
Jackie Chan
Jackie Chan, the multi-talented personality, is known for his stunning body. Back in 2016, the Rush Hour star was honored with the Honorary Oscar Lifetime Achievement Award. While thanking his fans, he revealed his fitness regime on stage. The star believes that martial arts have been the stepping stone to his well-toned physique. Exercises like splits, back bends, thumb press ups, fingertip press-ups, one legged squat and deep knee squats are a must to his routine. He added, "Indulge in eating anything that you like but, extend your workout by 20 minutes if, you savor sugary food items".
Hugh Jackman
Hugh Jackman has been the inspiration for many of us. Right from the nearly-dead Jean Valjean in Les Miserables to the bulky Wolverine, the star makes sure to give his best. The actor revealed that his diet is all about unsalted proteins. He added, "It is called as the 16-8 diet, I would starve myself for sixteen hours a day and then have five thousand calories in eight hours."
According to him, an unorthodox diet can help to stay healthy in the long run.
Usher
"You are what you eat". "If you eat clean, you get better results."
– Usher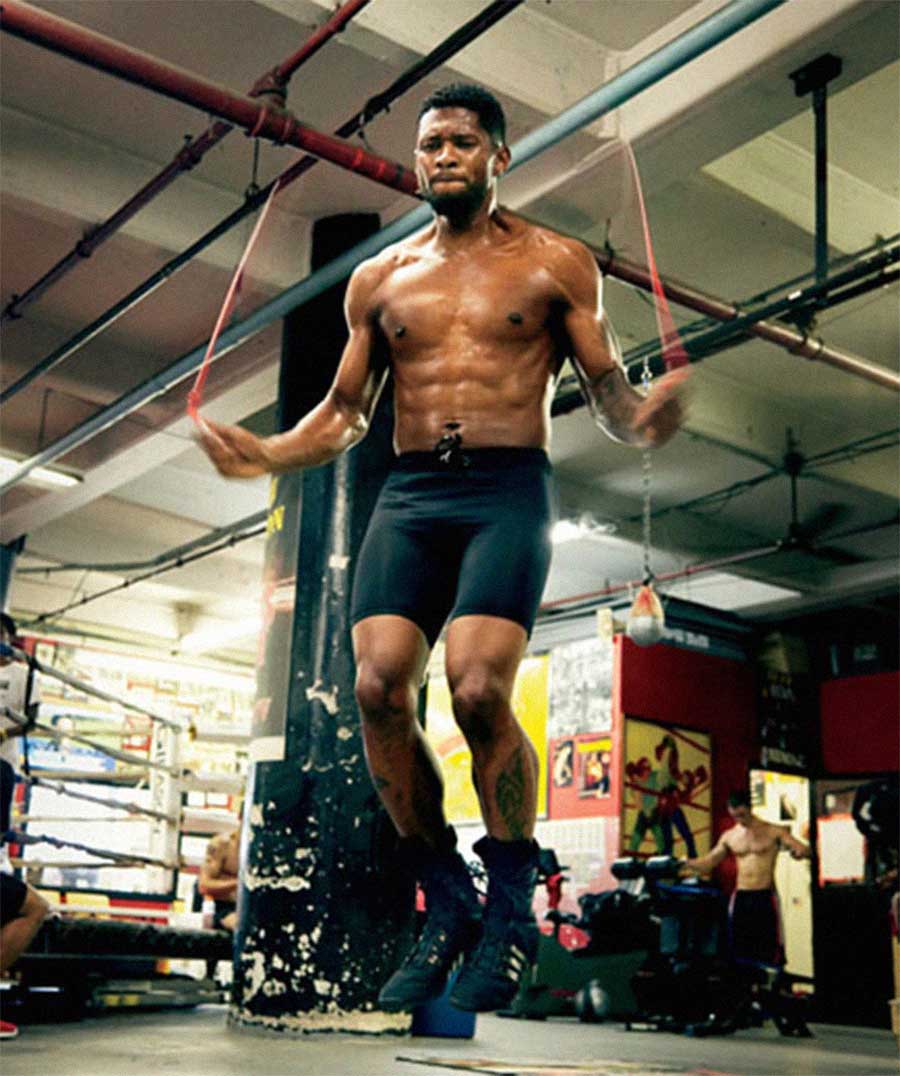 Once, he explained his fans that what you take in, is actually what you look on the outside. Veggies and fruits keep your system clean while junk food abstains you from experiencing something exotic thus, keeping you away from good results.
Dwayne 'The Rock' Johnson
Dwayne "The Rock" Johnson ensures to portray an updated version of himself with his every new movie. He has been consistent on body building ever since he was a WWE- champion. According to him, "no pain means no gain". "The Baywatch" star believes in sticking to his diet and workout plans. He ensures to keep himself motivated for hard core workouts.
Chris Hemsworth
Chris Hemsworth presented the best of him in the movie Thor. Many guys got motivated by his looks and started practicing for the same. Hemsworth says, "Lifting weights were exhausting but, it is better to do something than to do nothing at all". He adds, "If you want to feel better, make sure you've done enough work to treat yourself with a beer at the end of the same".
So, which celebrity do you adore most from the above and which one who's fitness tips would you adopt for improving your personal style? Do let us know in the comments section below.